Rochester Hills Chiropractic and
Wellness Center Provides Headache Management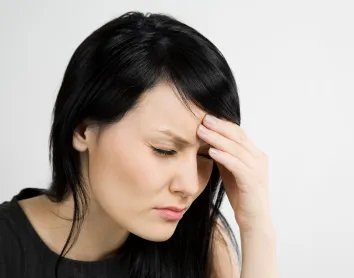 At Dr. Ron Fried
Chiropractic
in
Rochester Hills
we help people with headache, TMJ, extremity pain, herniated discs, back pain, neck pain, and muscular skeletal adjustments. Our specialties include sports medicine and physical therapy including massage therapy. Whole body wellness care is always our focus.
Headaches
affect just about everyone and they can be extremely painful. The typical headache has a treatable underlying cause that isn't serious. Unfortunately, a plethora of pharmaceutical remedies make it fairly easy to mask the pain and taken on a continuous basis these medications have been linked to serious medical problems. Our
Chiropractor
, Dr. Ron Fried, can provide you with a much more sensible solution by discovering the cause of your headache and treating it using a combination of
chiropractic
treatments and wellness care.
Common Causes of Tension and Migraine Headaches
There are two main types of
headaches
: tension (cervicogenic)
headaches
and migraine
headaches
that may also manifest as cluster
headaches
. Headache causes include: drug and food reactions, stress and fatigue, temporomandibular joint dysfunction (TMJ), tightness in the neck muscles and low or high blood sugar. In rare cases recurrent headache is a sign of a very serious medical problem such as a brain tumor that requires urgent care.
Tension
headaches
affect upwards of 75% of all headache sufferers. Tension headache pain is usually a constant dull, achy feeling either on one side or both sides of the head. Tension headache is often the product of stress combined with poor posture. Neck pain or back pain may accompany a tension headache. Tension in the spine and muscles in the upper back and neck cause the top cervical vertebrae to lose normal motion and position exerting pressure on a small muscle called the rectus capitis posterior minor (RCPM). When the RCPM muscle goes into spasm it migrates upward to a thin pain-sensitive tissue called the dura mater that covers the brain leading to a headache. Some chronic tension
headaches
never entirely go away and they can be very painful.
Migraines are intense
headaches
that are often accompanied by additional symptoms including nausea, blurred or spotty vision and light sensitivity. Migraines are caused by an abnormal constriction of the blood vessels in the brain that then pendulums to a rapid dilation of blood vessels. The constriction leads to the visual symptoms while the rapid vessel dilatation causes the excruciating pain and pounding headache. There are a number of things that can trigger a migraine although the exact cause remains a mystery. Stress, flickering florescent lights, strong odors, lack of sleep and changing weather patterns have all been associated with migraines. Foods high in an amino acid called 'tyramine' have also been linked to migraines.
Dr. Ron Fried, your
Chiropractor in Rochester Hills in Chiropractor in Rochester Hills
, takes a comprehensive approach to headache management. First he will diagnose what type of headache you are suffering from and then you and he will design a lifestyle and treatment plan that will help with pain and try to eliminate the root cause of the headache. Numerous research studies have shown that adjustments by a
chiropractor
are effective for treating tension
headaches
. Significant pain relief is possible through the manipulation of the upper two cervical vertebrae, coupled with adjustments to the junction between the cervical and thoracic spine. This treatment is also helpful for migraines as are other therapy and massage treatments that target specific migraine trigger points and muscle groups. Combined with lifestyle changes, physical therapy and sometimes even a sports medicine program to help with stress management, our
chiropractic
treatments and wellness care can help you manage your headache pain for the rest of your life.